Pottery To Go
---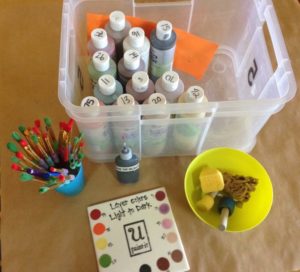 If you would rather take the pottery to go and paint at home then this is the option for you! We will send you home with the ceramic pieces of your choosing, paints, brushes, sponges and painting instructions. There is a firing fee (as opposed to a studio fee) of 35% of the pottery cost. That covers the paints, glazing and firing. Once you have finished painting, bring the pottery back and we'll take it from there. Your completed masterpieces will be fired and ready to go in 6 days. This is a great alternative for people with small children, house guests or for crafters who like painting at their own pace.
Pottery To Go How Tos
---
Plan your design
You may use a marker to sketch your designs. It is okay to marker on top of a basecoat just be careful not to scratch into the paint. It might look strange but the marks will burn off during firing.
A few painting pointers…
1 coat will look like watercolor and 3 coats will be more opaque. Layer your colors from light to dark. For example, a pale yellow basecoat with a dark blue design on top is ideal. White will show upon the darker colors but needs 3 coats applied. Any parts not painted will remain white. Typically, you may sponge off mistakes with the exception of darker hues. White paint will not cover mistakes.
Please do not use any paints other than the UPI supplied colors.
Bring your newly painted items back to the studio for glazing a firing! You may finish pieces with details bottles and other supplies when you return the item.
Failure to return this kit in 30 days or with missing supplies, will result in an additional charge upon return. Thanks for your understanding!
Have fun and call us if you have questions…979-695-1500