Create a Memory!
---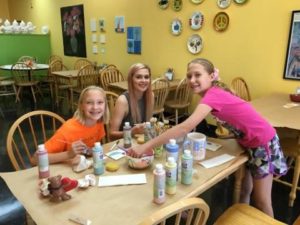 Enjoy the fun of paint-you-own pottery with friends and family in a stress-free environment that is sure to stir your creativity! Come paint for a relaxing getaway from the hustle of life, date night or to create a one-of-a-kind gift. Once glazed and fired, items are food-safe and useable.
It's the perfect activity for kids' parties, bridal & baby showers, girls' night out, student organization gatherings and corporate retreats – just to name a few occasions!
We are happy for painters to bring beverages (adult or otherwise) and snacks. No artistic talent or prior experience necessary. And no reservations required for groups of 5 or less.
We accept checks, cash, all major credit cards.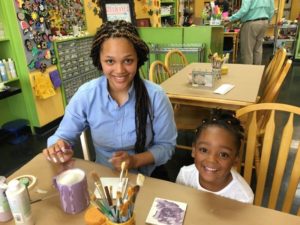 So how does it work?
You choose the ceramic piece from our huge inventory…
We provide the materials – paints, brushes, sponges, stencils, idea books…
You enjoy designing and painting your item.
When you're finished painting, we glaze and fire your piece and in 6 days you'll have a personal masterpiece and keepsake!
Enjoy painting in our studio or check out our Pottery to Go, and have a ball in the comfort of your own home.
Studio Fees
---
The studio fee covers your time in the studio, all the necessary supplies,
glazing and firing.
Children (High School and Under) $6.00
Adults $8.00
On WACKY Wednesdays studio fees are 1/2 price all day!
Fridays studio fees are 1/2 price for Children!
We are not able to take group
reservations on Wacky Wednesdays.
Pottery pieces range in price from $3.00 and up.

Gift Certificates
---
Want to spread the joy of paint-it-yourself ceramics? Give U Paint-It gift certificates! Certificates are available in all denominations and are the perfect gift for the budding artists in your life!