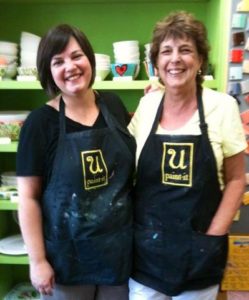 Established in August 2004, U Paint-It is the vision of Valerie Woodcock and Penny Woodcock-Bane.
After painting at several paint-your-own pottery studios, this mother-daughter duo believed the Bryan/College Station community would benefit from having a place for people to be creative, relax and spend time connecting with friends and family.
Since its inception, U Paint-It hosted countless birthdays, play dates, office parties and even a few engagements! It has been an honor to be a part of people's lives and we look forward to creating many more fun times!
Originally from England, Valerie spent years as a teacher and Head of School at St. Thomas Early Learning Center. Penny, born and raised in College Station, is a proud graduate of A&M Consolidated, TCU and the University of South Carolina. With a background in higher education administration, Penny has worked at the University of Arizona, SMU, Texas A&M and TCU.